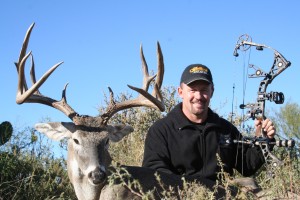 Kenny has been an avid hunter since 1971. He received his B.A. in Management and Communications from Angelo State University. He has been active in marketing and sales since 1984 and worked in the communications industry for 17 years. Kenny is the founder of McCrea Outdoors, established in 1989. He has been dealing with landowners and guiding hunters since 1987.
Kenny currently manages the wildlife on over 75,000 acres of private property in Texas and conducts exotic hunts on several ranches as well. Kenny is very active in the wildlife industry and works in many roles as a wildlife manager and outfitter. They include helicopter surveys, trail camera surveys, gathering data for harvest recommendations, supplemental feeding programs, maintaining healthy sex ratios and land carrying capacities.
Kenny works closely with the Texas Parks and Wildlife department to implement and maintain Managed Land Deer Programs (MLDP) on most of the properties on which McCrea Outdoors does their hunting.
Kenny has produced or furnished video footage that is used on national TV for the enjoyment of sportsmen everywhere. Working with television shows like Mathews TV with Dave Watson, Primos-The Truth about Whitetails, Primos-The Truth about Hunting, Mossy Oak's Hunting the Country, Dr. Deer with Dr. James Kroll, North American Whitetail, Trophy Quest Outdoors, Destination Polaris, Double Bull Archery and Jay Gregory's "Wild Outdoors".
Kenny is married to Gina and has one daughter Kenna, son-in-law Cody and a grandson Briley and two granddaughters Taylor Anne and Ainsley Grace.